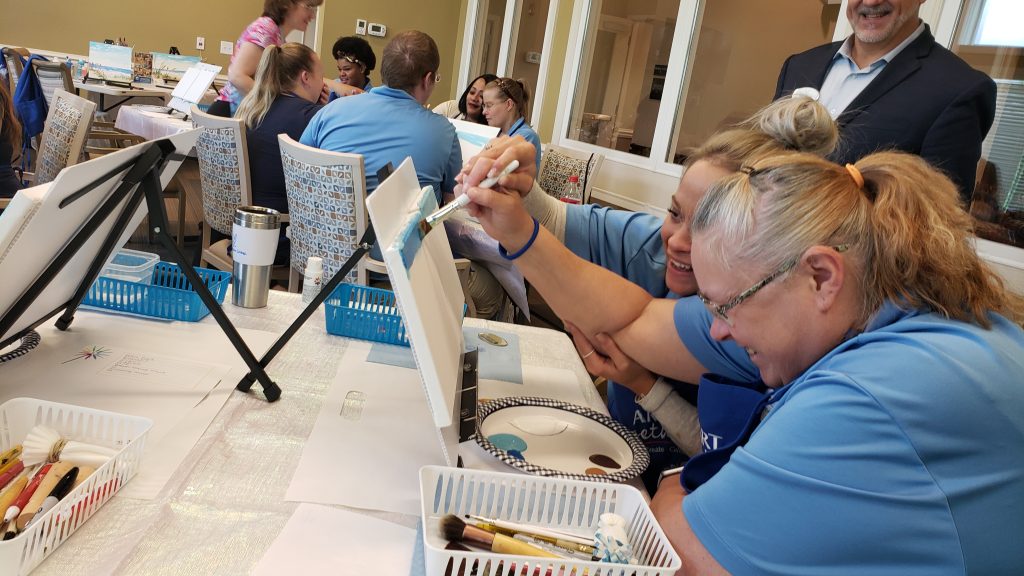 " I learned to put trust in another person when I could hardly trust myself." Caregiver and workshop participant
Nineteen staff members of a senior living community gathered for an art workshop unlike any they ever expected. Some were already nervous about painting for the first time. But before they could even put their first brushstroke on their canvas, they learned that any expectations they had of learning how to paint were going to involve a lot more than listening to and watching the instructor!
With their eyes closed and relying on their other senses, they worked collaboratively with their peers to complete their beach paintings. This was just one of the many challenges that they had to overcome that gave them a deeper insight and empathy for those they care for who have mobility and sight impairments.
After completing a collaborative diptych (a painting composed of two panels), participants were asked what they appreciated or learned. Many people shared that they learned how to trust others, value teamwork, and appreciated getting to know other members of the staff in a relaxed and fun atmosphere. One person shared: "I learned that painting is a beautiful thing; it shows how beautiful the world can be when you share it with people you love."