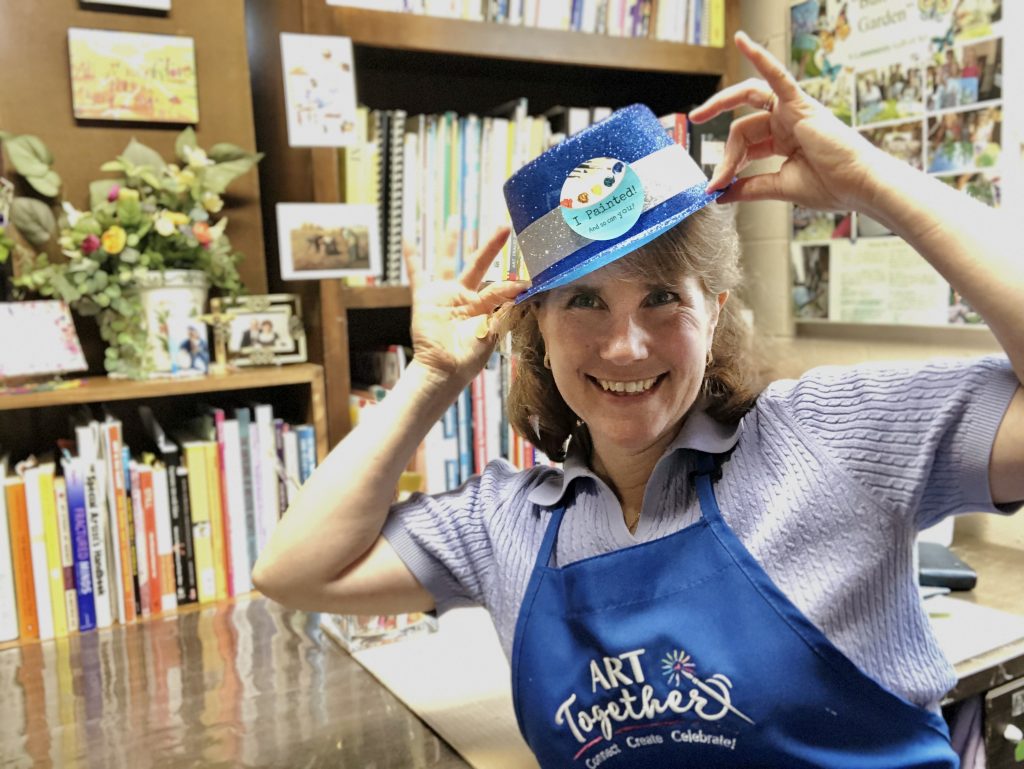 As the founder of Art Together LLC, I love to learn and consider myself truly blessed to have found a way to help others with what I love to do, and that's to help people see, appreciate and tap into the beauty in and around them!
I have a quote above my desk by Frederick Buechner that reads "The place God calls you is the place where your deep gladness and the world's deep hunger meet." I've been on a journey to that "place" for 50 years and am so grateful to be where I am with those I care so much about. 
I earned a B.A. from Smith College, and an M.A. from Middlebury College, but I have to say I've learned the most from the individuals I've had the privilege to call my students – many of whom have dementia or physical impairments- and their supportive families and dedicated caregivers.
In 1997, after a career as a full-time French teacher and part-time artist, I started my own business so that I could offer multi-disciplinary educational experiences for all ages and ability levels– combining French and art whenever I could. A few years later, in 2004, I started working at a local adult day center and assisted living community, and began to see how truly life-giving and transformative making art can be. One of my participants, a legally blind woman in her late eighties told me, "I'm so happy to be learning something new!" And many others, in their nineties, telling me that they can't believe they can paint something that they want to frame and give as a gift to their families. As the years went by, I found myself offering fewer classes for children so I could spend more time with older adults who didn't have the same access to high quality creative experiences.
The creative engagement programs I design and lead combine making art with a little bit of something interesting to learn and fun to do –whether it's reciting or writing a poem together, singing a familiar tune, learning about an inspiring travel destination, or acting out a Norman Rockwell painting! (My godfather was a model for Norman Rockwell and exposed me to his art since my childhood, so I have a special affinity for his work.)
By focusing on what someone can do, we truly help people go beyond their perceived limitations and experience great joy as a result. And this joy makes such a positive difference in their families and the communities in which they live. (Mine included!)