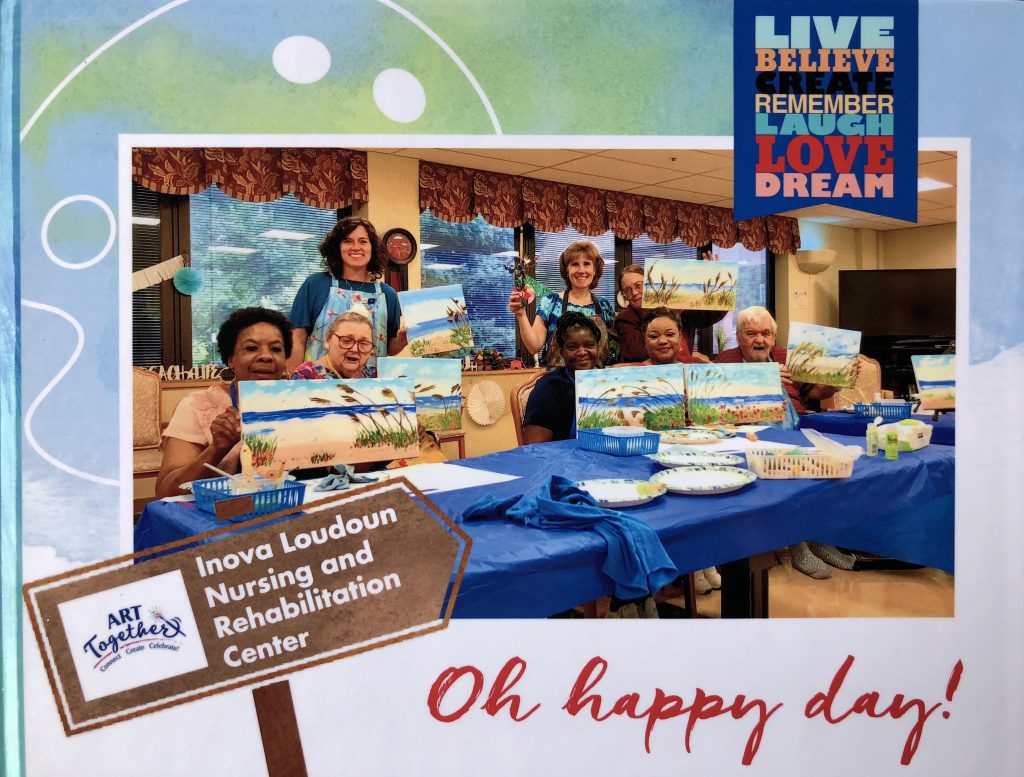 Overview In 2013, Art Together's therapeutic, art enrichment classes began being offered at Inova LNRC as an ancillary private pay service for residents. In 2018, in addition to one-on-one classes, we added semi-private and small-group creative adventures, making it possible for residents to paint with friends, family, and even some staff! We strive to make our classes accessible and enjoyable for all long-term care residents, regardless of their ability to pay or the level of their abilities or disabilities.
Scholarships We want every resident to be able to experience the joy of painting with us, and to make that possible, we have a Benevolent Scholarship Fund. Thanks to generous donations and memorial gifts we receive from individuals and families who believe in our hearts' work, all residents at LNRC are currently eligible to receive a scholarship for their first class, and additional classes as funds allow.
Registering Simply complete and submit to us a Registration Form and optional Payment Authorization Form:
Class options Our therapeutic classes are adapted to the needs of the participants. We also offer class at bedside for those who need that accommodation. Our classes are designed for active adults, as well as those with visual, muscular, cognitive, hearing or sight impairments. We offer private one-on-one classes, semi-private classes and occasionally some small group classes. We warmly welcome resident family members or friends to share the experience of a class together — either by painting or just watching.
Fees $75 includes personalized instruction to complete one painting (private 1 hour; semi-private up to 90 minutes), all supplies needed, an opportunity to exhibit your keepsake painting, and souvenir photos sent to your family. Extended private sessions (up to 90 minutes) are an additional $20.
Scheduling Residents who are sponsored by families receive priority scheduling monthly. Classes are typically offered on Mondays and Wednesdays in the afternoons. Once the schedule is figured out, we send an email reminder to family contacts indicated on the registration form, as well as to staff. An appointment reminder is placed on the resident's door and staff help get the residents to and from the class.
Satisfaction Survey We'd love to hear about your experience in our class and any improvements or changes you may suggest.
Share your Celebration Story of how engagement in our arts programs is or has impacted you or your loved one.
Volunteer Painting Companions Needed — Do you have a longing in your heart to help others? I'd love to talk to you about volunteering with our program so more of our residents who need extra assistance can still benefit from being in a small group class. No prior art experience is necessary; you'll get to learn how to paint, make a new friend, and experience the joy of helping them discover something new and paint something beautiful!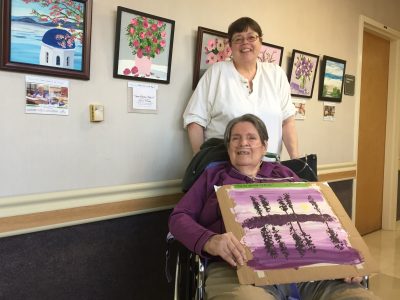 Marion McAboy Art Scholarship
Every month I receive a donation from the family of Marion McAboy, a former resident at LNRC. Marion's two daughters sponsor one LNRC resident each month to participate in my creative aging programs in honor and memory of their mom. To date, they've underwritten over $5,000 in classes since they started doing this in October 2017! Here's a note from these sisters about why they are underwriting this opportunity for others:
"Our mother, Marion McAboy, had the rewarding experience of painting for the first time due to the generous gift of a late patient and his family. The fact that Mom had dementia and a stroke did not stand in her way of enjoying this creative activity.
After seeing how much our mother enjoyed her experience, we wanted it to continue. It proved to us to be a beneficial and needed therapeutic experience for both patient and the family. Mom used to tell us as kids that embracing the unknown of new experiences can be challenging but exciting, like an adventure.
Thus, in memory of our Mom, it is our honor and privilege to establish 'Marion's Adventures.' This is a monthly gift for other patients to enjoy an opportunity to have a one-on-one creative experience and thereby allowing them as well as us to share in Mom's fulfilling adventure."
Connie Gier and Sharon Connor
October 2017